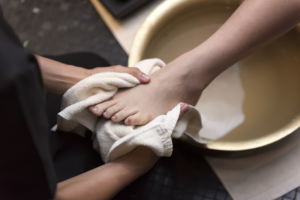 So what's so spiritual about being at people's feet? Well, Biblically there are many references to washing of feet One reason is probably that of the lack of shoes and type of sandals worn lead to "dirty" feet.  Another as a sign of respect.
Respectful and sanitary objectives all tied up in one. Jesus also had expensive oil applied to his feet by Mary which Thomas wanted to stop because of the worth of the oil but Jesus insisted that she continue…..…
Ok, so I always thought there was a spiritual element to being at people's feet.  Praying on one discreetly while at their feet was an easy task as well. The physical aspect of being at the foot puts me in a non-threatening position and allows the dialog to flow easily.
Let us look at biblical references on healing while we're at it.
Is Anyone among you sick? Let them call the elders of the church to pray over them and anoint them with oil in the name of the Lord. ~James 5:14
They also drove out many demons and healed many of the sick, anointing them with oil. ~Mark 6:13
Dr. Dawn
SaveSave