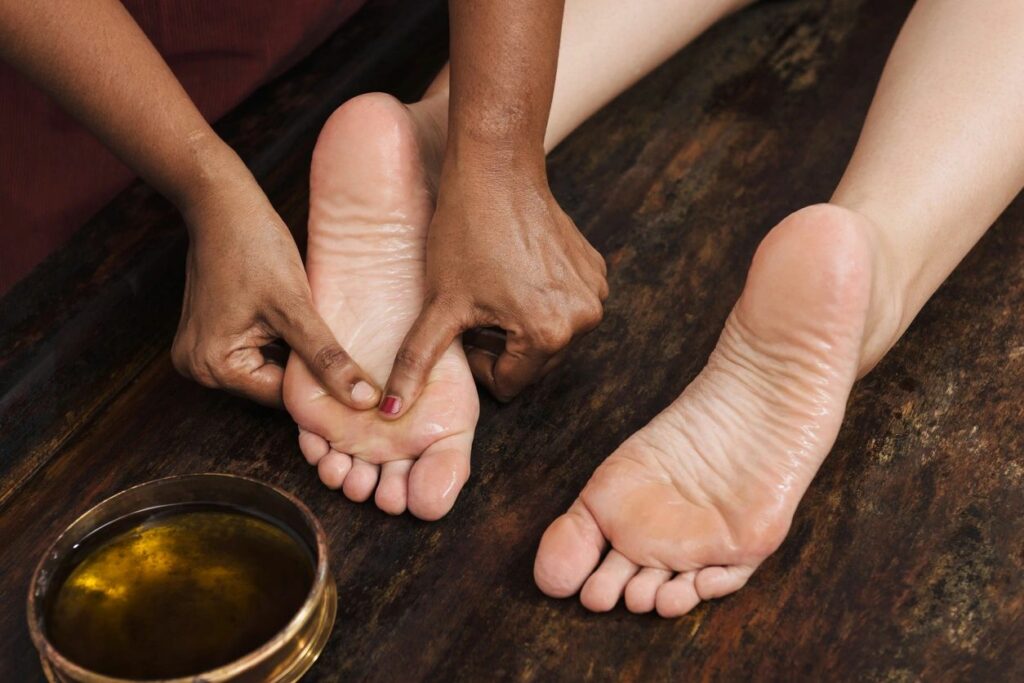 The foot is a great place to apply essential oils because of the absorption. The skin is thicker and less sensitive and can tolerate the application of "hotter" oils such as oregano, without dilution. With that said it's always a good idea to dilute with fractionated coconut oil to have the oils work longer by keeping those volatile molecules from hopping off the surface of your skin. Apply oils to the bottom of the feet for a systemic effect where the entire body benefits. In addition, referring to a foot reflexology chart can help target desired organs and specific areas of the body. 
Here are some suggestions: Apply 1-2 drops to the bottom of your feet.  Repeat this 2-3 times a day.   
Lavender – Decreases anxious feelings and has a calming effect, promotes sleep, and is great for burns and skin irritations. A favorite to diffuse at bedtime. It provides relief during seasonal threats.
Melaleuca – has strong antibacterial, antiviral and antifungal properties. Apply 1-2 drops to the bottom of feet when not feeling well. Great for improving the appearance of toenails and between toes. Diffuse in places of mold.
Oregano – great antiviral, antifungal and antibacterial and is an immunostimulant.  Works very well in combo with melaleuca.  Since Oregano is a "hot" oil it should be used with a carrier oil such as Fractionated Coconut Oil when applied to the skin. 
On Guard protective blend – Antimicrobial properties and immune support.  A blend of cinnamon, wild orange, clove, rosemary A drop to a cup of tea or your juice when you feel something coming on or are under the weather.  Its great Autumn aroma (warm and spicy) makes it a favorite to diffuse as well. 
Deep Blue Blend – This is your answer to sore feet! It helps alleviate pain and inflammation that is caused by injury and arthritic conditions.
Wild Orange – Think uplifting, invigorating and detoxing! Try a drop in your water for a refreshing citrus burst! Promotes concentration. 
AromaTouch blend – Increases circulation, soothes ache feet. Supports the neurologic system in extremities as well as the lymphatic system. 
Balance grounding blend – A blend of Frankincense, spruce, ho wood blue tansy, blue chamomile, and osmanthus.  Begin your day by applying to the bottom of your feet to promote feelings of calmness and tranquility. 
Peppermint – anti-inflammatory, analgesic, and analgesic. Great for head tension and digestive support. 
Getting started with essential oils is life-changing and fun!  This is a great place to start!