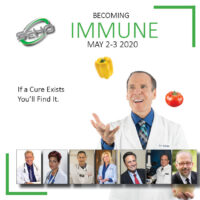 Please join Dr. Dawn and the Science of Human Optimization as they address the underlying cause of chronic illness through the art and science of human optimization.
The ScHO conference showcases the people, science and technology that look to provide the body everything it needs, so that we can function at the very peak level of health expression.
This event is open to athletes, entrepreneurs, CEO's, Moms and anyone who is doing things with their life that demand a sharp mind, strong body and youthful energy!
This webinar will showcase some of the world's experts in addressing the underlying cause of chronic illness by correcting deficiencies and removing toxicity.

We'll introduce you to remarkable physicians who will explain the fundamentals for your best life right now in the moment.

With some 44 presentations over two days this event will be the turning point in what you believe to be possible.
Here is the link for registration on Eventbrite :
https://www.eventbrite.com/e/science-of-human-optimization-conference-may-2-3-2020-tickets-100985008880?aff=efbeventtix&fbclid=IwAR0a_xwZ7QDYqrwjkgFL9we760RgWm0_Vrzg4gnEMxc7DjzaTYrbXj7tEno
And here is the Facebook event listing.
https://www.facebook.com/events/214130696333509/